Olive tree meals Diet Blog
The requested plan
The designing of the logo, the corporate identity and also the designing of the website for an innovative business with the brand name Olive Tree Meals.
The story
It all started when Iοanna, a mother, passionate for cooking, decided to create a pioneering business that would have as its main concern, the creation of delicious and nutritionally balanced dishes for the whole family.
She claims that it's best to spend time doing what you really want with your loved ones.
On this basis, she prepares cooking plans that contain the weekly menu and the corresponding shopping list along with recipes and ideas. With this service it offers affordable solutions to the daily puzzler "What shall I cook today?".
Visual depiction
On the logotype, we designed an olive tree, in order to graphically depict the brand name of the business, while within the circle we designed a fork and a spoon correspondingly to connect the olive tree with the cooking.
We then designed the corporate identity card, which concerned the business card as well as all forms of meals that will be sent electronically, such as lists, recipes etc.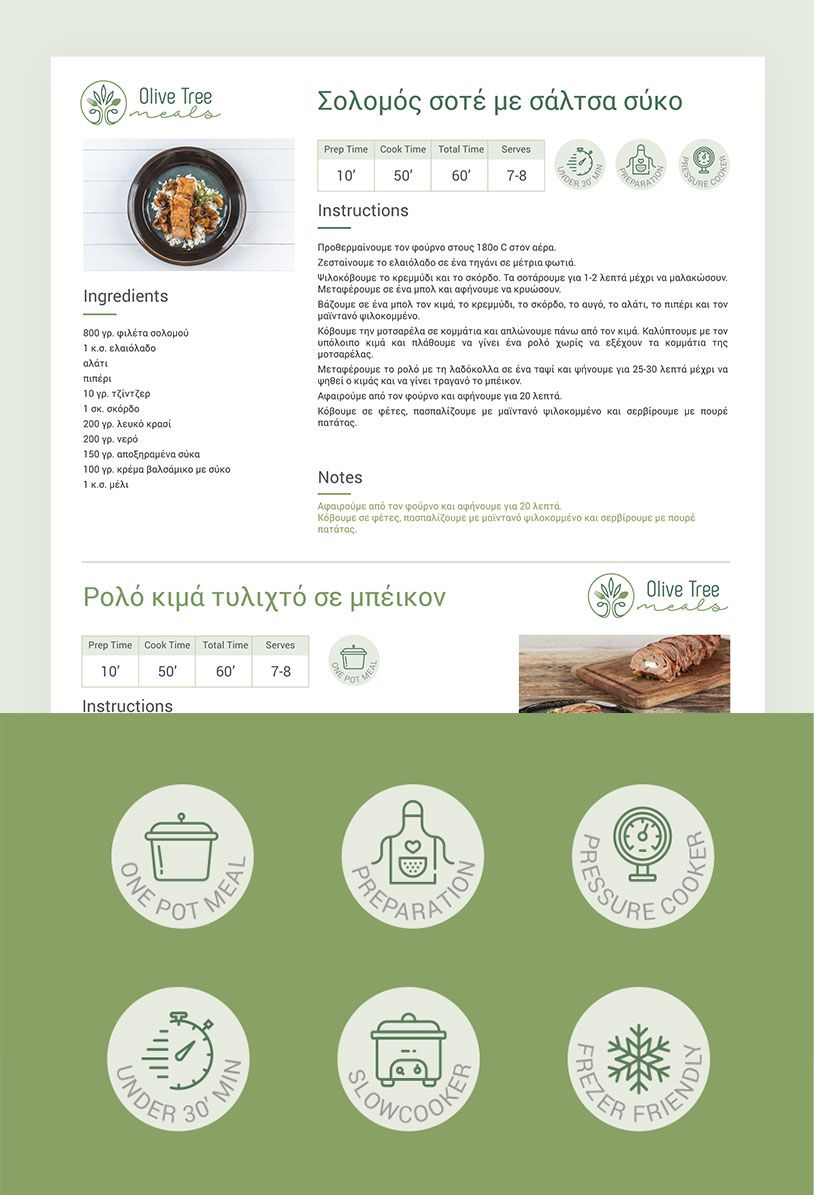 Website
Designous also undertook the designing of a 100% responsive website, which qualifies for a pleasant ux and ui. The site olivetreemeals.com is characterized by easy scroll and speed, while emphasis has been placed on keywords that have been used to achieve top-notch online search results (SEO) versus competition.
For the design of the website, we followed up the corporate identity. We retained the identity and applied properly the colors of the branding and all the pure and minimal photographic emblazonment for an elegant and sophisticated effect.
That way, space was given to the vivid images, to attribute in a pure and clear way, so as to emphasize the purity of the materials used in the recipes. At the same time, the white and green background color transmits the feeling of balance, prosperity and positive energy to the visitor.
Ultimately, the appropriate Call to Action buttons were used to appeal to the visitor-consumer, in order to achieve the conversion rate.