Tegaia
TeGaia KYRIAKOULIS LAND is a modern company, located in the village of Vouno in the Municipality of Tegea in Arcadia, occupied with the cultivation, production and packaging of agricultural products.
The brand name "TeGaia" creates a pun between the ancient Arcadian city of Tegea and the deity "Gaia", who according to Greek mythology was the mother of all, the creator of Earth and Universe. The tagline "KYRIAKOULIS LAND" that we used emphasizes on the family character and the long tradition of 5 generations that the company has.
Visual depiction
When creating the logo for the agricultural company, our goal was to indicate the local character of the products in a clever and at the same time brandable way, giving authenticity and timeless value to the brand. The simplicity in the presentation, in terms of lines and typography, complement the performance of the central message in a simple and contemporary way.
Earthy shades in the corporate identity, transfuse harmony to the overall outcome, while the neutral brown that is used as the main color, evokes feelings of calm, simplicity, confidence and solemnity.
In the logo, the initial letter "T" is captured with vertical and diagonal lines that symbolize the cultivation of the land and the raw nature, as it is seen from an aerial photograph.
WEBSITE
We created a minimal website, with clean lines, free from unnecessary elements, that gives at first glance the impression of a professional company, whose object is the production and cultivation of quality agricultural products.
Easy navigation and fast loading speed, contribute to an optimal experience for the user, who with one click finds everything he needs.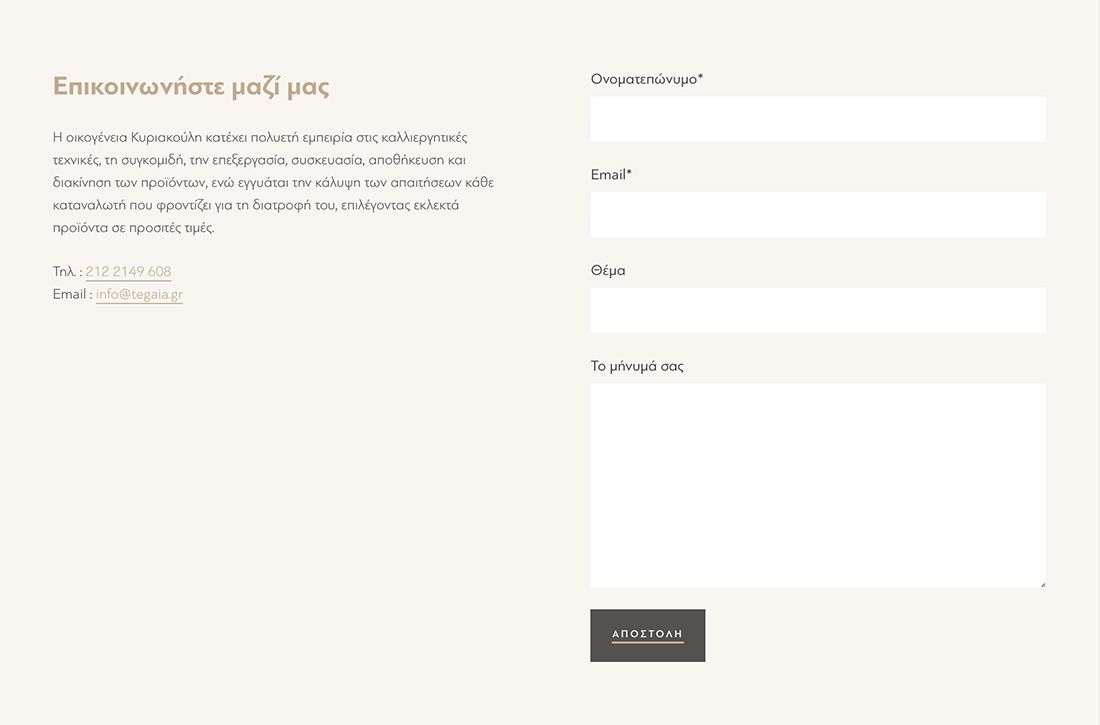 Client's review
George Kyriakoulis
We collaborated with Designous team to create the corporate identity, website and packaging of our products.
Everyone in the team is impeccable professional, precise in their planning and delivery of their works. The design of our profile left us completely satisfied after we received innovative, modern and contemporary ideas for the promotion of our products.
Our cooperation was done with absolute professionalism and respect. There is no doubt that in the future we will be happy to work together again.